Leadership Team
Staff member
Server Owner
Plus
Space Reset - Saturday 1st at 2PM EST
​
Hello,
Welcome to our second reset post of this season of resets! You didn't expect this, huh? You heard right, the Space realm will be resetting this Saturday at 2 PM EST. What better day to do it than the 1st of the month.
This reset will bring Space up to date with our new setup, changes and content that can be seen on the Kingdom realm already. If you did not read the reset post from Kingdom, a list of every change we made along with all of our new content we added can be found. Make sure to read it through to find the giveaway at the end for a chance to win $50 store credit!
I hope you all enjoy the post, let us know what you think in the thread below. That being said... let's get into it!
Usually, when we reset realms, we do not do many changes. However, this time is different. We asked you what you wanted and we have tried to implement as much as we could to give you a fresh feel without doing a ".0" reset. I will be explaining below all of our new content in as much detail as I can so make sure you read it all.
Let us know below what you think of these new changes and if you have any questions, ask below and we will get you an answer to those!
Better time formatting of /perks.
Added back the bulk buy for multiple stacks of spawners.
Added a god apple cooldown


You will now be combat tagged when you hit a mob in The Cave.
[item] will now work in /msg and island chat.
You will no longer be able to fly out of your island border but /border will still exist to toggle the visual border on and off.
You will now be able to get shards from envoys.
The team size has been reduced to 15.
Increased the rewards from harder skills like fishing.
More items, including spawners are added to the limited time shop.
Brand new build for personal mines.
Added rules for console clients to /rules.
Completely redone boss rewards.
KOTH is now back in the end.
New MiningWorld map and increased sell prices.
Panda pet has been heavily buffed and Frog pet slightly buffed.
Spawners will now be in stacks of 20.
Default mob stack is now 250.
Quests will now have a lot better rewards to encourage users to do them.
Updated the tutorial and skyblock guide with all the new information.
Made daily rewards from voting better and increased jackpot rewards.
Drops from undead mobs will be receive a much bigger sell boost during the Purgatory event.
Vaults have been completely reconfigured.
Fishing event will now offer more keys.
Farming event will now have higher sell prices.
Generator rates have been increased.
Changed our crates again, added new items and made Event keys better.
Decreased the XP received from experience spawners.
Renamed slime block spawners as they no longer drop this.
Gems, Mining World changes and Mine changes.
Gems are a new feature that we have decided to add that will be important throughout the season. Starting off, in the Mining World and any personal mines, you will no longer get your own inventory. You will be instead be given an inventory that we give you, including a diamond pickaxe. This is your diamond pickaxe and can be used in any mine and in the mining world.
Using Gems, you will need to upgrade your pickaxes enchants to make it more efficient and a lot better to mine with.
You can access the gems menu by doing /pickaxe. This menu will also be showed by clicking the pickaxe in the Mining World or Mine menu. This will list all the enchants that you can do on your pickaxe. The menu will show all the enchants available to purchase for your pickaxe. Each book represents a different enchant. You can view the price of the enchant, what the enchant is and what level it will take your pickaxe to by hovering over it. Simply right click on the corresponding book to upgrade that enchant and it will take away the amount of Gems it costs.
The higher the enchant level you go, the more expensive they are. Once you have maxed out an enchant, the book will turn into a barrier displaying that you already have the max level of this enchant and you cannot upgrade it anymore.
The enchants you purchase will be on your pickaxe for the Mining World and your personal mines, it is not a separate one. You can view the enchants you have by hovering over your pickaxe in the menu too which will list all enchants. Below is a list of every enchant you can get.
Efficiency (Same as Vanilla)
Well (Chance to mine down a certain amount of blocks)
Levels (Chance to give you valuable blocks. You will receive these when you leave the session)
Fortune (Chance to multiply the value of the block broken)
Haste (Permanent haste effect)
Leap (Permanent jump boost effect)
Speed (Permanent speed effect)
Jackhammer (Chance to mine a radius around you on the same level you broke the block on)
Explosive (Chance to create an explosion round you)
Double (Chance to double the sell price of a block)
Cubed (Chance to mine a 5x5 out around you)
Automine (Once the chance hits to activate this, it will automatically mine around without holding down your key for 15 seconds. It will also mine out a few blocks around you too rather than just the blocks you mine)
Experience (Chance to gain experience from mining blocks)
Pickpocket (Chance to take a percentage of a players money who is in a mining world or mines session with you)
Gems can be gained from mining in personal mines, mining in the Mining World, killing Enderman in the end or from The Cave.
Gems will be displayed on your scoreboard. You can also view your gems with /gems, pay gems with /gems pay and view other peoples Gems balance with /gems <name>. The Gems you will get from The Cave or killing enderman will come in item form. Simply right click them to redeem them into your balance.
Economy
As usual, we are making a bunch of economy changes just to make things a little different. The slime spawner that drops quartz ore for levels will now be a lot more expensive as the amount of quartz that players had last season was not intended to be that high. The experience spawner has also been increased in price as well as having a decrease in experience dropped to lower the amount of experience people have and to force you to spend more money on these spawners to get amount of experience you need. We have also made a change to what the top spawner is. I will not be spoiling anything, you will have to wait and find out what it is!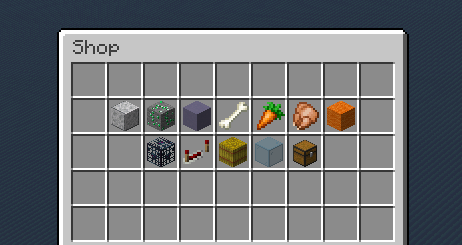 The Cave
Since we released The Cave, we have had some good feedback. It seems that you like the concept however, it is just not hard enough. With this reset, you will see lots of different tier mobs, more of them and it will just be a lot more challenging with the combat tag and god apple cooldown.
There will also be ores around the place for you to mine. Not only this, but the rewards will be a lot better too. This will also be a place where you can find Gems. Information on Gems and what they are used for can be found just above.
Enderman Spawners
The End is something that have always wanted to make use of, but have struggled to find a day to day use of it. This update will change it. Throughout the end, there will now be Enderman spawners. Enderman spawners will drop Gems as well as rare items like money and other valuables.
You will not always get a drop from an enderman and be careful as pvp is enabled in this world!
Accelerate Hoppers
Something that was requested by one of you guys and something that we liked the idea of is a hopper that will transfer items quicker but will not automatically pick up items in that chunk. This hopper will transfer items 4x at a time and be twice as fast as normal hoppers. These will be purchasable on the store and also in all of your crates and rare rewards in places like The Cave.
Enchants
We have made a few changes to our enchants plugin this reset. We have added the ability for the following enchants to be able to be put on Axes or Shovels or enchanted.
Nuker
Haste
Accelerate
Telekinesis
We have also added a brand new enchant called Beheaded. Beheaded will give you a chance for the players head to drop once you have killed them. There will be 3 levels of this, the higher the level, the higher the chance of the players head dropping. We have also updated the /enchants menu to show this enchant.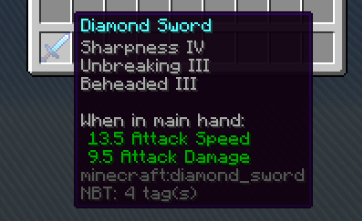 Outpost
We have made a couple of changes to the Outpost. The multiplier it will give you remains the same however, the decapture time has been increased to 90 seconds from 60 and the capture time has been decreased to 90 seconds from 120. This will hopefully help with "troll" players who just come along with very limited items to kill the players on outpost and decapture it.
Island Prestige's
We love our Island prestige's and you do as well. We do not want to mess with them too much but there are a few changes that we will be making.
Previously, we have only had 5 prestige's which is okay however, it doesn't take much money to level your island up. We will now be adding 36 prestiges! You will prestige in exactly the same way, the only difference will be that per prestige, you will receive less of the perks so it will take a lot longer and a lot more money to reach those top perks.
Another thing we have added is blockstack limitations. With each prestige, you will unlock a higher limit on how many blocks you can add on a blockstack. For instance, at prestige 1, you may be able to add 2,000 blocks to the blockstack and unlocking prestige 2 may allow you to add an additional 2,000. These are not the exact numbers, but just an example so you know how it works.
This will encourage users to prestige their island otherwise they will not be able to use blockstack to its full potential!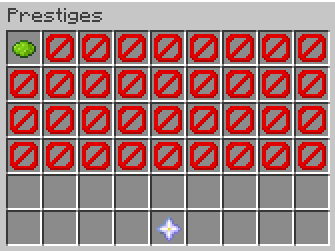 Cane Wand
Another suggested feature is a cane wand. We have wanting to add this for a very long time and now that it has been suggested, now is the perfect time. The cane wand should hopefully encourage users to manually farm sugarcane over using chunks of cactus.
The cane wand will have 2 modes, collector mode and sell mode. You can right click the wand to switch between the modes. Collector mode will do what it says, it will put all sugarcane broken into your inventory. Sell mode will do the opposite, it will automatically sell all cane you break.
In sell mode, there will also be a sell multiplier. You can view the multiplier by looking in the lore. As you harvest more cane, the sell multiplier will also increase.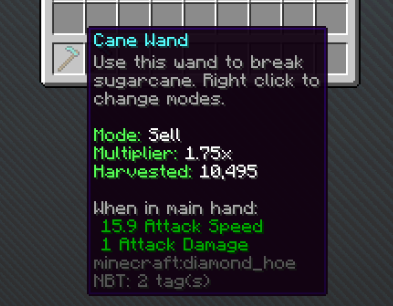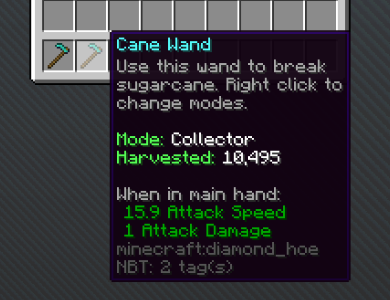 Summer Crate
As these are our Summer resets, we have decided to add another monthly crate style crate in called the Summer Crate. This will be very similar to the 4th of July crate with just a few items changed, amounts changed, more items added and some percentage changes. This will be the most overpowered crate we have so look out for this on our store closer to release! Due to how overpowered this crate is, you will not be able to use Giftcards on it unless they are PayPal alternatives.
We have made no changes to what you will keep over resets. If you are a newer player and haven't experienced a reset before then make sure to click on the spoiler below to see a full list.
• Any rank purchased or received from the store.
• Your permanent ability to /fly.
• You will have access to any Legendary Kits purchased on the store.
• However, the levels of your pets will reset.
• You will also keep Island Expansions, Hopper Expansions, Fast Place, Tags and all your Cosmetics.
If you are unsure if you will keep anything else, just leave a comment below and we will let you know if you will be keeping it over resets or not. Make sure you have used up any coupons you have such as rank credit or pets.
Prizes
​
Just like previous seasons, we will be offering rewards for those islands that are in the top 5 on the server. All the rewards that you will get are listed below however, let me just explain how to get your reward.
To set your island PayPal email, you need to do /is paypal <email>. This will allow us to pay you straight out to that email rather than having to mess about, wasting time trying to get you your payment that you have worked hard for. If you would prefer a global giftcard to spend on the store, just either leave your /is paypal blank or set it to /is paypal coupon so we can get you that sent out.
$100/week (PayPal) and $50/week (Giftcard)
$50/week (PayPal) and $75/week (Giftcard)
$50/week (Giftcard)
$15/week (Giftcard)
$10/week (Giftcard)
There are a few rules with prizes however. When you receive your coupon, if it is
not
a coupon that you got instead of PayPal, it is to be used by the following Friday and only used on the realm you won it on.
On Friday 31st at 5 PM EST, the final Island Top of the season will be taken. Payments will be sent out immediately so you will need to be on to collect your Giftcard from your mail in order to spend it on the next map. PayPal payments will also be sent out. Remember, if you are wanting a Giftcard instead of PayPal to take into the next map, make sure to update your /is paypal so we can get that sent out to you.
Following the Island Top, we will be doing an event just to end of the map and to give you guys a little bit of fun. All of our world protection plugins will be disabled so you will be able to grief other users islands, spawn, pvp and all of our other builds.
This will last for about 30 minutes and then the server will close until 2PM EST on Saturday.
Giveaway and Conclusion
​
Thank you for reading the post! We thought we would go a little off schedule and surprise you with the Space reset rather than the Mystic one! Space players, we hope you enjoy this reset, we have put a lot of work into making it the best we can. It should be a good change from anything you have played before on MineSaga and give you a lot of other things to do.
I look forward to seeing which team will take over Space this season! That being said, here is a giveaway to help you out!
All you need to do to enter is follow us on twitter and retweet the tweet above. Good luck to everyone who enters! That is all I have for you today! I hope you all enjoy the resets and hope to see a lot of you back on Saturday 1st!
Thanks again,
play.minesaga.net
Last edited by a moderator: