Hey everyone.
This post will contain all the updates for this week, including the small additions that we'll be pushing live to the server later tonight. If you have any suggestions for content we can add in the future, please post them in the appropriate category - and we may add them.
@Gullible
is making a changelog tomorrow with all of our smaller changes. Lots of these changes won't be available until after the daily reboot on these realms later tonight.
June Crate
It's a new month, which means it's time for a new crate! We have released the June crate on all realms. It's the same price as previous crates, but contains quite a few new rewards. I'll put a screenshot below.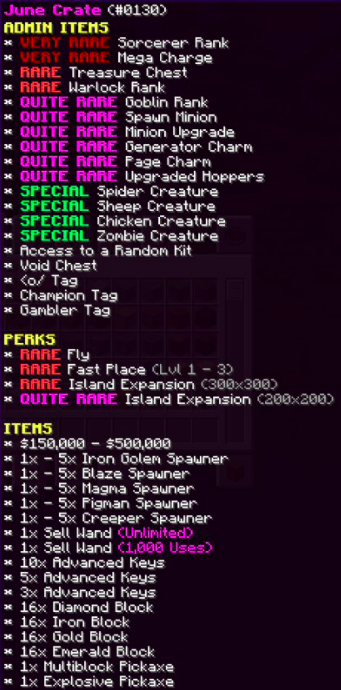 ​
These are some of the changes we've made from last month:
Changed the Creature types around
Changed Tags
Added Page Charms
Added Generator Charms
Added Upgraded Hoppers
As always, you can purchase this on our store.
Click here to visit the store.
Island Whitelist
We understand that people want to often lock their islands so that they don't have people intruding or interrupting. But, there may be a certain player who you want to be able to access your island whilst it's locked. This is why we've introduced the new whitelist feature.
You can now, using
/is whitelist (player)
, make it so people can bypass your island lock and visit your island. You can view whitelisted players using
/is whitelist
and you can remove them using
/is unwhitelist (player)
.
Island Alliances
It's frustrating being able to hit your friends in combat. That's why we're making it so you can now ally one island, so that you will not be able to attack those users. You will be whitelisting an entire island at a time, not just one user. We're still playing with this feature and it could be modified or removed in the future.
You can use
/is ally (player)
to ally an island. You can subsequently use
/is unally (player)
to unally an island.
Island Purge Confirmation
When you're joining another island, you'll now get a confirmation menu saying that your island will be deleted if you join that user's island. Nothing too fancy, just something that will prevent people from losing their island in the future.
​
Closing Remarks
Sorry for the small update this week. We've been busy with resets and some other really awesome stuff that you guys will be seeing in the Summer. We have a really big (and...